Singapore, 19th July 2023 , the world's first Holistic Health boutique from Clinique La Prairie, Switzerland's leading pioneer in health and longevity was officially opened in Singapore. Located at Marina Bay Sands, this exclusive boutique houses Clinique La Prairie's most sophisticated nutraceutical offering to date – derived from the exclusive Holistic Complex that focuses on the most essential elements of longevity and wellness.
Founded by Dr Paul Niehans in 1931, Clinique La Prairie is synonymous with longevity, enabling clients to enjoy healthier and longer lives ever since. Located in Montreux, Clinique La Prairie sits on the shores of Lake Leman, surrounded by the majestic Swiss Alps. Dr Niehans created a ground-breaking cellular 'Revitalisation' therapy, and established the clinic for clients to experience this revolutionary treatment that regenerates, reinvigorates and rejuvenates the body.
Over the past 90 years, Clinique La Prairie has been developing its science of longevity based on 4 pillars – medical, nutrition, wellbeing and movement. Today, Clinique La Prairie has established itself as the world's most exclusive Longevity Clinic; and one of the most iconic Swiss brands. CEO Simone Gibertoni is now driving the development of Clinique La Prairie as it expands globally.
While guests who follow a programme at the Montreux clinic have the opportunity to experience a week-long course of cutting-edge technologies and nutraceuticals, Simone Gibertoni wanted to make a part of these technologies available to a more significant number of people. For this reason, he co-founded the Holistic Health project with the aim of creating the world's best longevity nutraceuticals that draw on the latest nutrigenomics research and are made with the finest ingredients.
"Clinique La Prairie is the only health clinic and wellness centre in the world with such strong levels of scientifically demonstrable expertise in rejuvenation, wellbeing and longevity, with the perfect blend of innovation and modernisation. Our Holistic Health supplements are the result of years of research to understand how we can support people who are living busy lives with a routine they can trust to support their wellbeing. In this journey, I am truly honoured to open the world's first Holistic Health boutique in Singapore, making another extraordinary wave in the health and wellness space," shares Simone.
Home-grown business brand RichL Group brings this exceptional line of nutraceuticals to Singapore at Clinique La Prairie's first-ever Holistic Health boutique. Mr. Laurent Negrin, CEO of RichL Group, is excited about this invaluable opportunity to introduce the groundbreaking range of Holistic Health nutraceuticals to Singapore.
"Richl with Clinique La Prairie open the first-ever Holistic Health boutique in a world-renowned location like the iconic Marina Bay Sands, bringing the nutraceuticals to a whole new part of the world," he shares.
Longevity in a Pill: A Scientific Study Proves the Power of Holistic Health Supplements to Combat Cell Ageing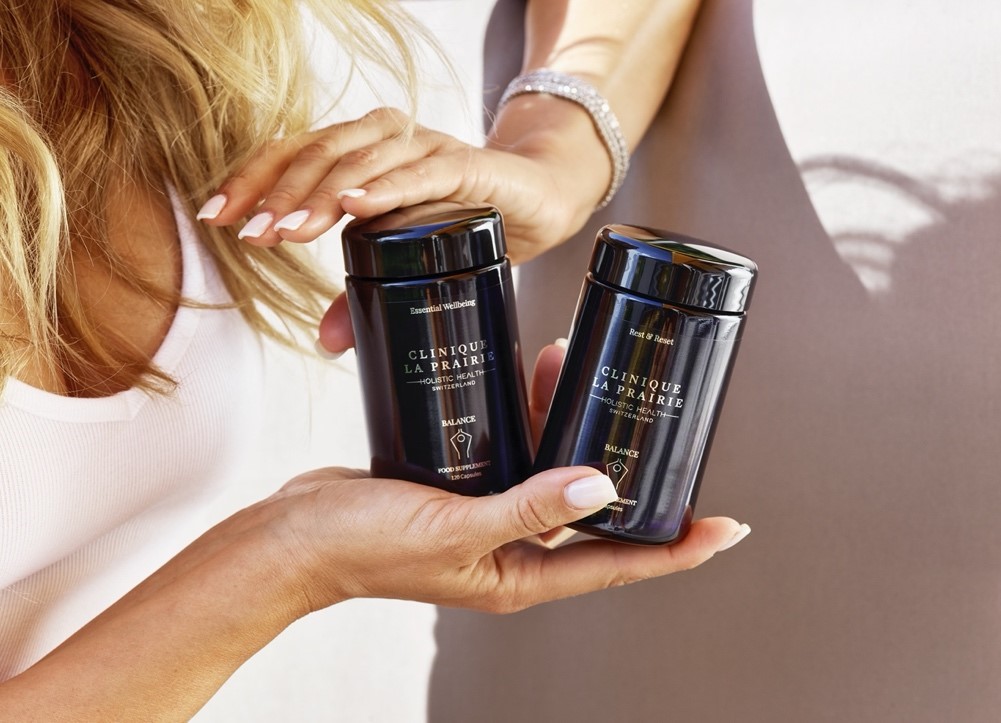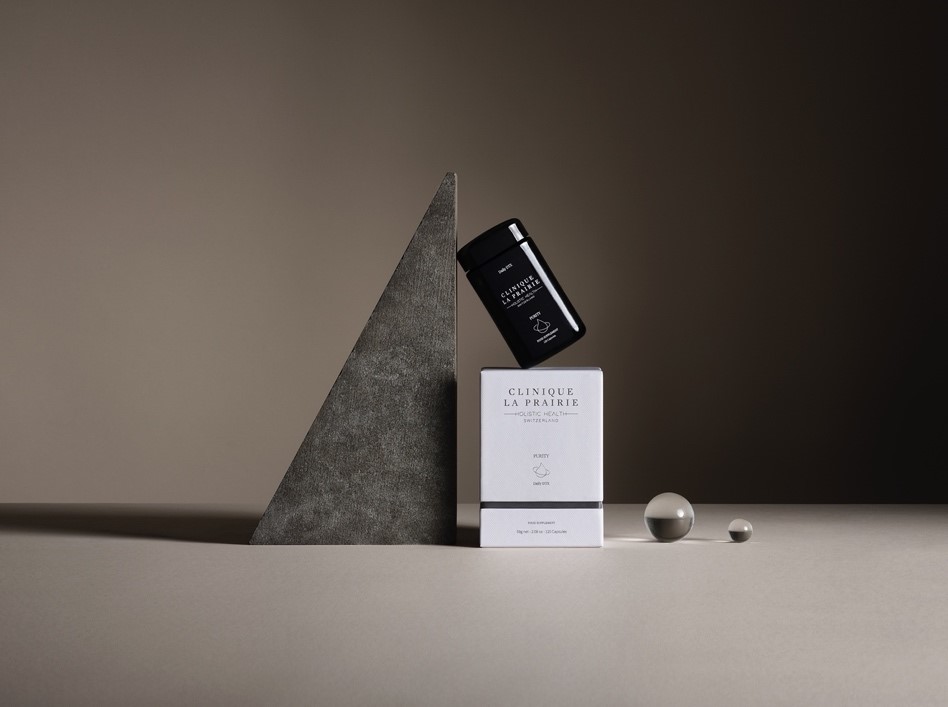 Using the latest anti-ageing research, Clinique La Prairie's Holistic Health supplements offer clients a unique opportunity to help adjust their cellular environment to optimise overall health, strengthen the immune system and support brain function. Recent research suggests that it may be possible to slow down – or reverse – ageing processes through specific lifestyle changes, which include improving sleeping habits, adopting a healthy plant-based diet, regularly engaging in moderate-intensity exercise and practising meditation.
The Holistic Health nutraceuticals range has been created by the team of Lifescience experts at the clinic based on a Clinique La Prairie Holistic Complex connecting the 5 fundamentals of healthy living – immunity, stress management, anti-inflammation, rejuvenation and cellular longevity.
An independent study** was conducted on the CLP Holistic Complex, showing that it has a proven protective role in telomere shortening and, therefore, on healthy ageing. Situated at the end of each strand of DNA, telomeres are an essential part of human cells and shorten as we age, causing our cells to age and stop functioning correctly.
A Pioneering Range of Four Products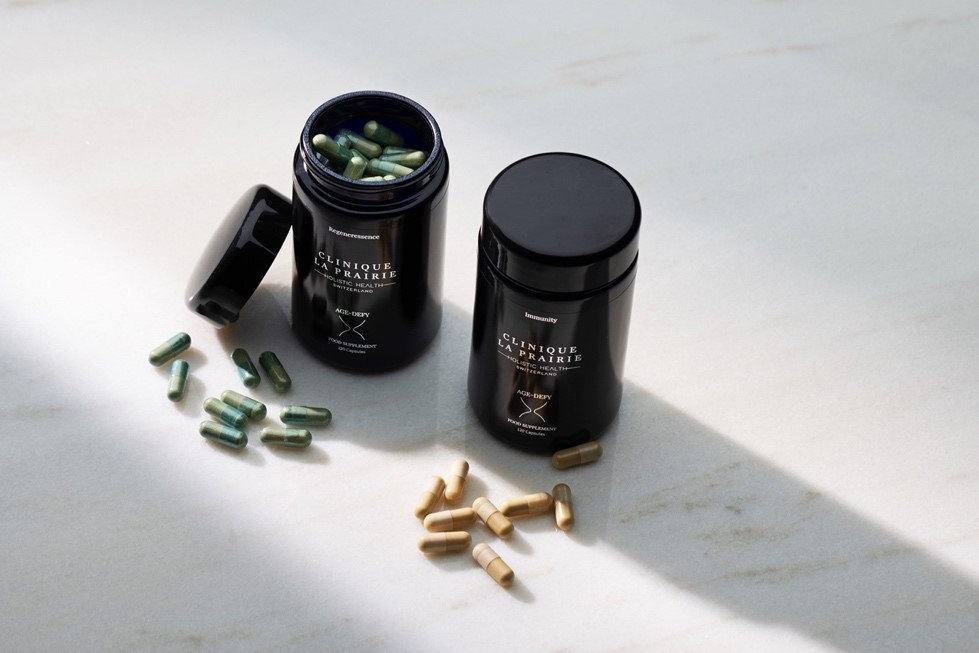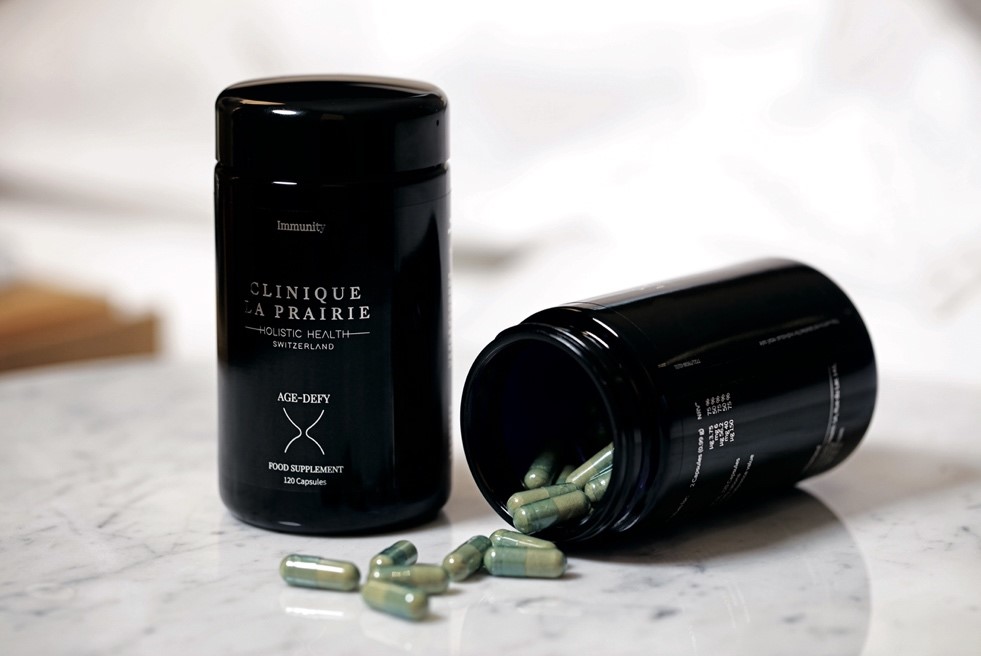 The four health nutraceutical products – Age-Defy, Balance, Energy and Purity – have been created by the team of Lifescience experts at the clinic. Each of the four vegan supplements combines the powerful ingredients of the Holistic Complex with carefully-selected micronutrients and plant extracts to enable active solutions that achieve maximum benefits.
The core premium longevity routine consists of:
AGE DEFY

Combining two supplements – Regeneressence and Immunity – this routine addresses cell regeneration, anti-inflammation and antioxidant protection to support a long and healthy life. The morning immunity blend incorporates high-performance antioxidants, actives and vitamins with the compounds Cavacurmin® and BetaVia™ to support natural defences. The evening Regeneressence formula features a powerful combination of 8 essential vitamins, antioxidants and the breakthrough FruitFlow® to contribute to cellular protection and stimulation.
The range features 3 complementary routines:
BALANCE

Balance is an essential routine for those living in a fast-paced society, as the path to equilibrium. It combines 17 essential vitamins, minerals and bioavailable forms of supercharged nutrients found in the Essential Wellbeing morning supplement, as well as sleep and relaxation-supporting ingredients found in the Rest & Reset evening supplement. One of the key ingredients found in the evening formula is the Bluenesse®, which is known to boost mental clarity and improve stress reactivity.

ENERGY

The Energy routine offers a daily dose of brain and body strength by introducing bioactive compounds that support cognitive functions and help optimise performance. With boosting extracts, B vitamins and the patented nootropic Cognivia™ for proven efficacy, the supplement enhances the Holistic Complex to strengthen memory, reduce fatigue and promote a feeling of endurance.

PURITY

This nutraceutical supports the natural cleansing and detoxifying processes of the liver, and helps to shield from oxidative stress – making it the perfect accompaniment when resetting with an intense detox at home. The formula contains innovative compounds with the richest sources of plant antioxidants and vitamins, such as Aronia berry extract, camu and chlorella microalgae. The 2-month formula is recommended to be taken 3 times a year.
Holistic Health's supplements are developed with the utmost respect for the body and environment and are non-GMO, vegan-friendly, free from artificial colours, sweeteners, preservatives and titanium dioxide.
Holistic Health Boutique at Marina Bay Sands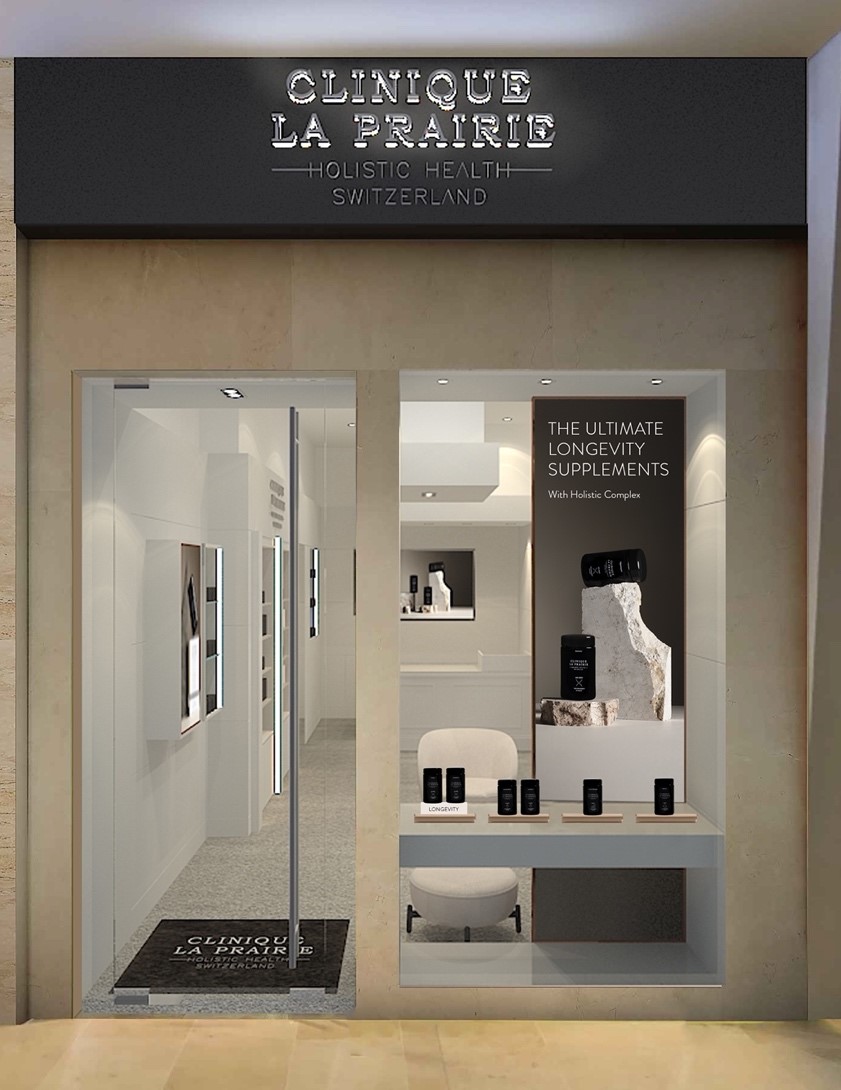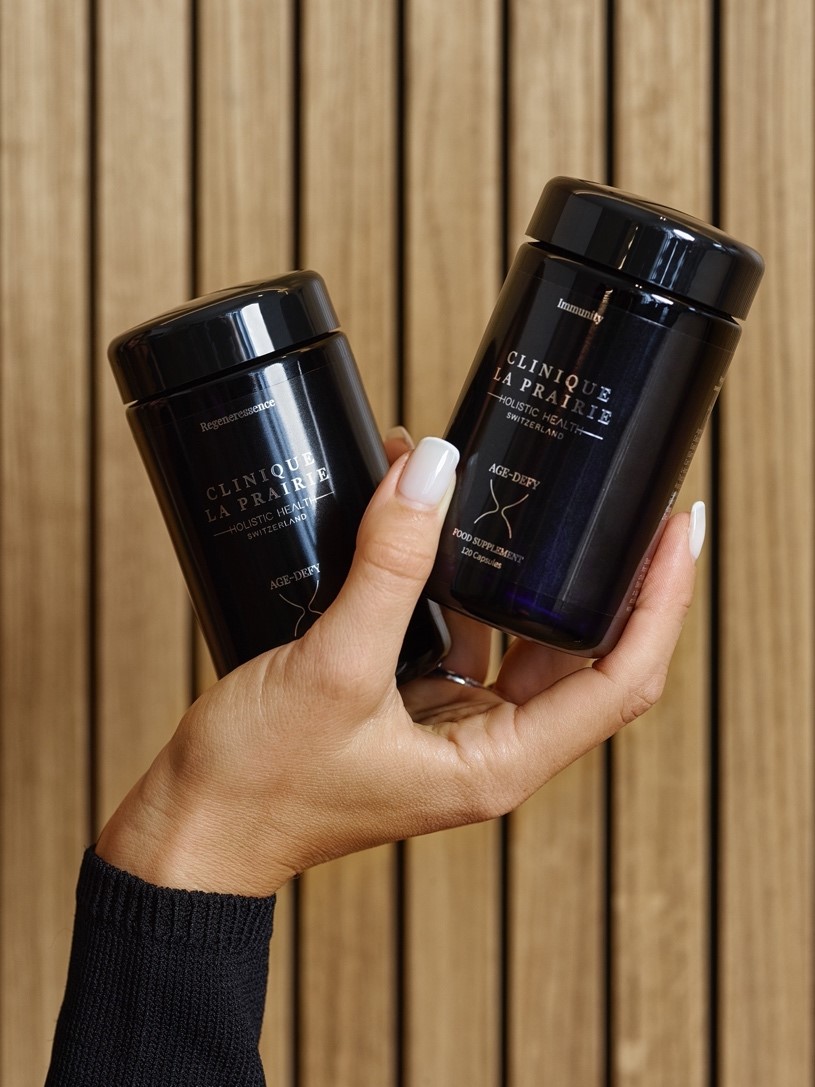 The new boutique at Marina Bay Sands houses these pioneering longevity supplements – centred around Clinique La Prairie's central ethos of supporting clients to remain energetic and in robust health.
The Clinique La Prairie Holistic Health boutique is located at 10 Bayfront Avenue, Marina Bay Sands, Hotel Tower 3, #01-15, Singapore 018956.
For more information on Holistic Health, please visit this www.richlhealthcare.com

**The detailed Life Length scientific study about the CLP Holistic Complex, with methodology and results, is available here.
About Clinique La Prairie
Founded in 1931 by Professor Niehans, a pioneer in cell therapy development, Clinique La Prairie has established an international reputation as a world-renowned medical clinic and wellness destination. Thanks to ongoing scientific research, Clinique La Prairie is regarded as a leading light in preventative medicine. Its flagship programme, Revitalisation, is designed to promote vitality, enhance the immune system and slow down the ageing process. The Master Detox delivers the ultimate bespoke cleansing programme. Other programmes include Rebalancing and Healthy Weight.
Echoing the four pillars of Clinique La Prairie's holistic approach to health and wellbeing, the durations of the programmes range from 5 to 14 days, during which guests can expect to receive a complete evaluation from medical experts, tailor-made nutrition and exercise plans, as well as results-oriented wellness and aesthetic treatments. A medical team of approximately 50 leading specialists ensures exceptional diagnostic precision and follow-up.
The longevity philosophy has been actively developing into a unique health journey since 2020. Echoing the pioneering philosophy of Clinique La Prairie, the range of longevity supplements, Holistic Health, was launched and is available at and outside of the clinic, through exclusive retailers in UK, Switzerland, and Singapore, on top of the clinic's hubs worldwide.
About RichL Group
Based in Singapore, RichL Group specialises in luxury goods and healthcare alongside investment projects related to real estate, energy, health, and marine technology. RichL is a global partner of leading Swiss longevity group Clinique La Prairie and is bringing the world's first-ever Holistic Health boutique to the iconic Marina Bay Sands in July 2023.
RichL is also the largest global partner for renowned luxury brand Stefano Ricci, and introduced the brand to Singapore with its first Southeast Asia boutique at The Shoppes at Marina Bay Sands. RichL operates Stefano Ricci's various projects, including SR Luxury private clubs that provide membership-based services for an elite level of the label's clientele, and guest hotels. Later this year, an exclusive SR Luxury Club will open on Singapore's famous shopping street Orchard Road, while the world's first Stefano Ricci airport boutique at Changi Airport. Preparations are currently underway for the first Stefano Ricci luxury hotel in China.
For more information, visit www.richlsg.com or scan the QR code below: